Swiss App Awards 2012, March 21., Zurich, Switzerland
Michael Jackson, Tweet
Partner at Mangrove Capital Partners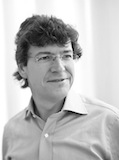 Michael Jackson is a General Partner at Luxembourg based Mangrove Capital Partners. Active across all of Europe, Russia and Israel, Michael spends his time looking for investable projects while advising portfolio companies as they grow into significant operations.
His professional life has always involved scaling and operating large consumer focussed communications businesses. From development of mobile telephone operations, through the roll out of Tele2 in Europe to 26 million customers, to creation and establishment of 9 MVNO operations in Europe, Michael hopped over to Chief Operations Officer role at Skype. Here, with special responsibility for all aspects of Skype's paid services, he led the organisation that took the company into 100 M euro plus within three years.
All these positions involve significant International and organisational scaling, and it is these experiences that Michael can bring to the entrepreneurs. Too often, entrepreneurs fail to realize their full potential through fear of the unknown - at Mangrove, we make the unknown known - not least by making sure that our portfolio CEOs are exposed to people who have been very successful, and through this build a network of advisors and friends who can help them for ever.
Michael keeps in touch with the grass roots of new technology by spending weekends at various European Bootcamp type events - Startup Bootcamp in Denmark, HackFwd in Germany in Estonia to name but two.
Michael has an Honours degree in Electronic and Communications Engineering from University College, London.
Time: Wednesday 19:25 - 19:40
/
Location: To be announced
We've only just started with Mobile App Development, and there are great things on the way. We are the people who will be doing them. What should we aim for next year at the Swiss App Awards.